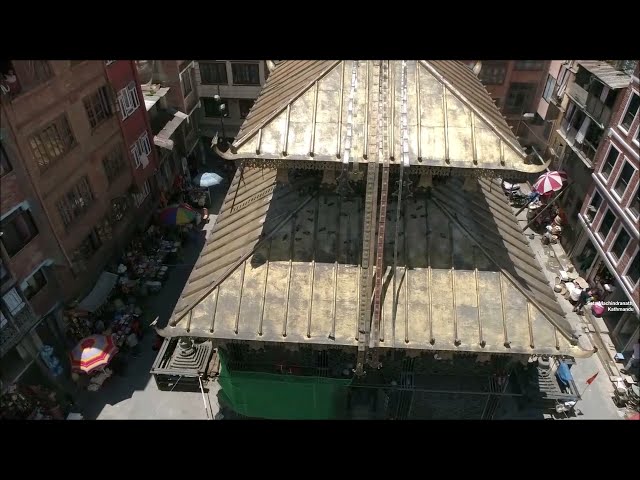 "Appreciating and Conserving Nepal's Cultural Heritage"

Vision For The Project
The age-old, close and friendly relations between India and Nepal and its shared civilizational and cultural heritage forms the basis for a unique collaboration for the post –earthquake conservation and rehabilitation of 28 cultural heritage sites spread across Nepal which encompasses different typologies like the tiered temple, Buddhist monasteries, traditional houses, Hindu Mathas, Dharamshala, Gumbas and public buildings.
This unique collaboration between the two countries is a shared pursuit to work together in an area of mutual interest particularly in the field of conservation of cultural heritage sites affected by the Earthquake and work towards restoration and rejuvenation of lost or damaged cultural heritage of Nepal.

PARTNERS
Collaborating for the Conservation of tangible and intangible Cultural Heritage of Nepal
India and Nepal share a unique relationship of friendship and cooperation since 1947 as close neighbours. Government of India's assistance programme in Nepal is guided by the vision that economic deliverables, particularly in the areas of education, health and infrastructure, must reach the people in a smooth, quick and unencumbered manner. The Embassy of India in Kathmandu is working with the Government of Nepal for the development of Nepal including post-earthquake reconstruction projects in cultural heritage, education, housing and health sectors as part of our commitment of USD 1 billion including USD 250 million grant pledged during International Conference on Nepal's Reconstruction held in June 2015.
The National Reconstruction Authority (NRA) was established with the main objective of rapid reconstruction of the physical damages caused by the massive earthquakes and their aftershocks. It was established on 25 December 2015 according to the Article 3 of the Act Related to the Reconstruction of Earthquake Affected Structures, 2015. For the post-earthquake reconstruction of the cultural heritage sites spread across eight districts of Nepal, the Government of India has committed USD 50 million grant assistance. The NRA is the nodal agency on behalf of the Government of Nepal for this project. The CLPIU (Building) under the authority of the NRA is the implementing agency and is coordinating the various projects.
Founded in 1984 with the vision to spearhead heritage awareness and conservation in India. Today INTACH is recognized as one of the world's largest heritage organizations, with over 190 chapters across India. In the past 37 years INTACH has pioneered the conservation and preservation of not just their natural and built heritage but intangible heritage as well. The Architectural Heritage Division (AHD) is dedicated to the promotion and conservation of India's vast cultural heritage. It has set standards for conservation work, documenting heritage and implementing conservation projects. INTACH headquartered in New Delhi, has set up the Project Office in Kathmandu with a core technical team comprising of Conservation Architects, Architects & Engineers.
Project Background
INTACH is providing technical expertise for the conservation of 12 cultural heritage sites project spread across the Kathmandu valley encompassing varied typologies of buildings. This includes preparation of DPR according to their Post-Earthquake condition assessment, acknowledging its unique architectural heritage features, addressing future safety, provide seismic strengthening and supervision and monitoring of the project implementation.

11.Bhimsen Temple*, Lalitpur
12.Namdorling Monastery*, Solukhumbu
What's New
Looking into age old practices and natural means of healing give us an opportunity to deal with problems regarding public health in a balanced way. Even in cases where extreme means are necessary, the safety of communities, front line workers and biodiversity should always be a consideration.
President ICCR, Dr Vinay Shahasrabuddhe visited the Seto Macchindranath temple in Kathmandu and Kumari Chhen in Patan to see the ongoing conservation works being implemented with Govt of India grant assistance for post-earthquake conservation of cultural heritage sites in Nepal.
A 2-day workshop on 'Use of Lime in Building Conservation' was successfully conducted on 9-10th June 2022 by INTACHKathmandu in partnership with Embassy of India in Kathmandu and CLPIU, Govt. of Nepal. 
Testimonials
"The Government of India is happy to contribute towards the conservation of some of the most significant cultural heritage sites in Nepal which epitomizes the tangible and intangible heritage of Nepal. The collaborative efforts will further strengthen the historic bonds between our two countries and will form the bedrock of people to people contacts continuing from time immemorial."
His Excellency Mr. Vinay Mohan Kwatra
Ambassador of India to Nepal
"It is the Government of Nepal's endeavor to restore, preserve and protect the country's rich cultural heritage. This project presents a unique opportunity for collaboration between the community, NRA, Embassy of India in Kathmandu, CLPIU and INTACH for the reconstruction and renovation of heritage sites damaged during the Nepal earthquake in 2015"
Mr. Sushil Gyewali
CEO, National Reconstruction Authority, Government of Nepal
"The post-earthquake conservation and rehabilitation of cultural heritage projects underline the importance accorded by India to the preservation and promotion of the rich religious, cultural and historical heritage of Nepal, which is in the spirit of the strong and close people to people bonds between the two countries."
Ms. Namgya C. Khampa
Deputy Chief of Mission, Embassy of India- Kathmandu
"INTACH has been playing a pioneering role in the heritage sector in India and is guided by its Charter which recognise Jeernodhara as the basis of conservation emphasising the living aspect of cultural heritage in asian context. We are now proud to be associated with the restoration and reconstruction of these landmarks of living heritage of Nepal, which forms a significant component of the world heritage sites of Kathmandu valley."
Maj. Gen. (Retd.) L.K. Gupta
Chairman, INTACH
"CLPIU is happy to be associated with the restoration of important cultural heritage sites of Nepal under Government of India funded, and Government of Nepal implemented projects. Our endeavour is to ensure the restoration of the buildings using traditional construction material and maintaining their originality, traditional importance and by keeping intact the local traditions, values and beliefs."
Mr. Shyam Kishore Singh
Project Director - Central Level Project Implementation Unit (Building), NRA, Government of Nepal
"The first international initiative of INTACH gives us an opportunity to work closely with the local communities in assisting them to conserve their disaster-impacted tangible and associated intangible heritage for the future generations."
Dr (Mrs) C. T. Misra, IAS (Retd.)
Member Secretary, INTACH